---
Description
🚚 FREE DELIVERY (4-7 DAYS) ON ALL ORDERS WITHIN THE USA 📦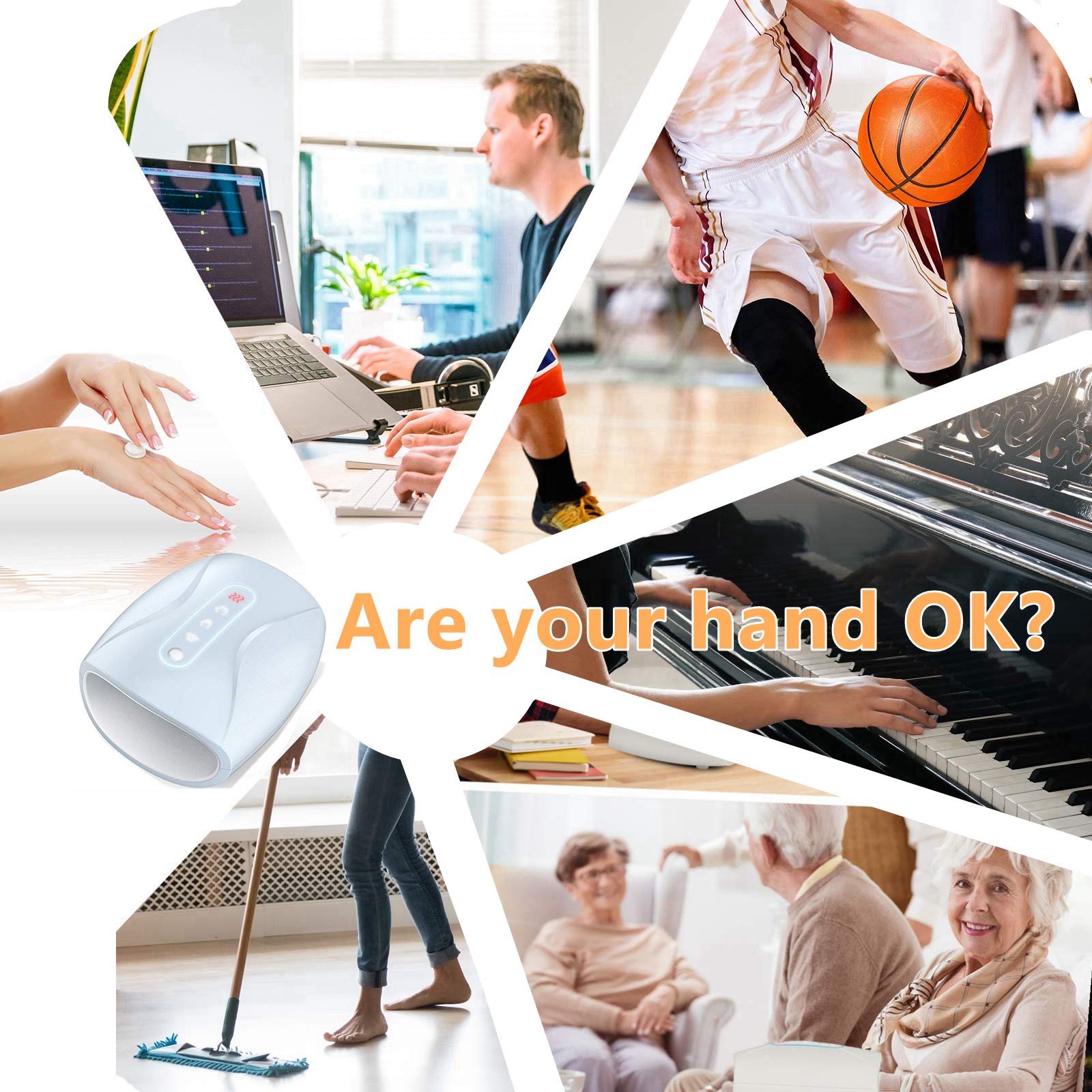 【Hand Palm Massager】Our hand massager adopts air pressure and warm compress massage technology. It applies a professional massage experience to generate a soothing rhythm to accurately imitate reflexology-like kneading to the acupressure points simultaneously to your hands.
【Adjustable Intensity & Modes】The hand massager is built with air pressure inflates and deflates insides, and has Big/Small Hand Modes & 3 levels of intensity. You can use it deeply massage and relax your whole hand. Built-in 15min timer, it will turn off by itself after 15 minutes of use.
【Optional Soothing Heat Therapy】This electric hand massager has 2 heating levels to select according to individual needs & preferences. Provides soothing heat with deep-infrared energy to the hand 104 - 122℉ (40 - 50℃) to keep your hands warm, moist prevent dryness, and promote blood circulation.
【Rechargeable & Portable】Wireless hand massager built-in 1800mAh rechargeable lithium battery can last 60-90 minutes after a full charge, which allows making a hand massage trip anytime and anywhere. This hand massager machine is lightweight & portable. So you can use it everywhere.
【Ideal Gift Choice For Women】A relaxing hand massage is essential for everyone to relieve hand tension or soreness after a busy day. It is an ideal hand relaxation gift for your wife, mother, girlfriends, and other families or friends to relaxing their hands and improve blood circulation.
FOR BEST RESULTS
Step 1. Apply hand cream or moisturizer

Step 2. Put on disposable gloves.

Step 3. Enjoy a relaxing massage.

Product information:
Intuitive display: 3 levels of compression / 2 hand-size options / 2 heating options

Size: 8.27 x 7 x 4 inches / 21x17.8x10.4cm

Weight: 2 lb. / 1 kg. 

Batteries: 1 Lithium-ion battery (included)

Power supply mode: USB charging

Rated Power: 18W
Package Includes:
1 x Hand Therapy Massager

1 x USB Charger
Note: Do not overuse, if there is any adverse reaction, it is recommended to stop using it immediately. Insufficient current, timely charging, to avoid affecting product life. Do not disassemble or repair the product yourself. Keep out of reach of children.

Maintenance and cleaning: If the appearance of the product is dirty, clean it with a dry cloth or paper towel. Do not use detergent. Do not wash it.
Payment & Security
Your payment information is processed securely. We do not store credit card details nor have access to your credit card information.