---
Description
Toilet Light Will Light Up Your Toilet Seat, Provides You with a Soft Night Light, Improves Your Sleep Quality, and Makes Your Toilet More Interesting!
Are you tired of going to the bathroom in the middle of the night?

Are you tired of the dazzling lights in the middle of the night?

Are you worried about you or your child stumbling in the dark in your toilet?

Are you unable to sleep in the middle of the night because of the Dazzling light?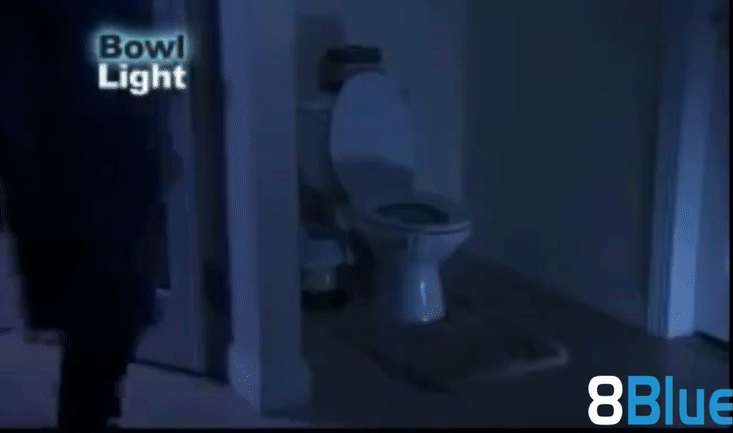 Come and try to use the toilet night light - A perfect night light:
No more stumbling around in the dark! No more messy cleanups! No more falling in the bathroom.

Fits Any Toilet Bowl in Seconds: A metal arm that can be bent (over bend it a bit so it caches on the bowl firmly) to fit any toilet.
Light Sensitive: It turns off as soon as a bright enough light is turned on nearby. More, it will not light up in day time for saving energy.
Motion-Activated: Automatically turn on once you get close to the range of about 2-3 meters of your toilet. The sensor duration is about 120 seconds.
Color Change: It runs its rotation where each color will show for about 4 seconds then change to the next with a smooth transition. Color rotate or set with Blue, Red, Green, Sky blue, Purple, Yellow, Pink, or White. Light up your toilet seat and make potty training fun.
NOTES:
During the day or the light is on, when installing the batteries, there will be a red flash, which is system detection. But because of the photosensitive resistance, the toilet night light won't work immediately. (Only work in the Dark).

This toilet bowl light works best if the sensor is facing the door.
Payment & Security
Your payment information is processed securely. We do not store credit card details nor have access to your credit card information.