---
Description
Forget about conventional pet carriers and traditional boxy kennels.
Now with our portable and breathable bubble pet backpack, you can give your kitty or puppy a great view every time you bring them out of the house. Pets are visual creatures; the more they can see, the more comfortable they feel.
Our portable pet carrier backpack is excellent for pet travel, hikes, and all sort of outdoor activities. Great for small-sized Dogs or Cats.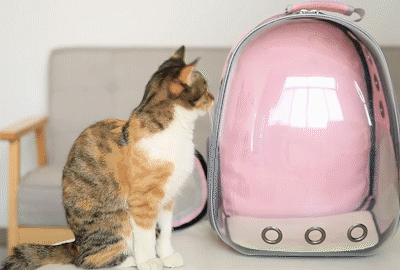 Features:
Eye-catching Clear Window Design - 

Pets Love to Keep a Close Eye on Their Surroundings. A transparent window makes it easier for your pet to see everything. Our pet backpack bag carrier makes hikes, travels more fun for both you and your pet.
Excellent Ventilation -

 9 large Ventilation Openings on both sides and front. Left and right ventilation nets ensure fresh air circulation for pets. Our backpack pet carriers have a back expandable anti-scratching net that provides maximum breathability to ensure that your pet will be able to enjoy their outdoor time with you.
Functional & Well made -

 Our cat and dog bubble backpack is superior in materials and excellent quality. It is made with High-Quality Pet Safe materials and is waterproof, Easy to Clean, and Lightweight. The pocket on the other side is nice to fill in pet snacks.
Keep them close -

 You can carry the backpack in the front of your body. The little net openings on both sides are perfect for reaching in and petting your cat or dog if they ever feel nervous. Our dog and cat backpack bubble has a Built-In security leash that ensures your pet's safety.
Payment & Security
Your payment information is processed securely. We do not store credit card details nor have access to your credit card information.