---
Description
This mask covers your entire face and you can literally
change to any face you'd like!
Choose from one of the many animated and still photos built-in or upload your own.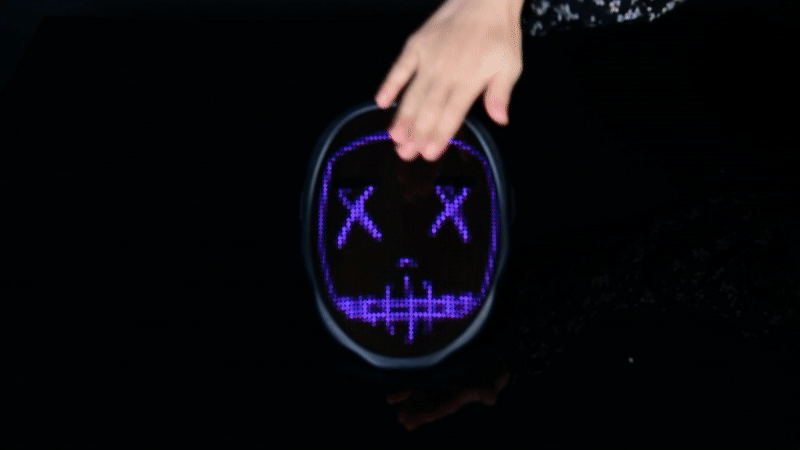 You can snap a photo of your buddy and display it on the mask to freak them out! Scroll a custom message, display patterns that react to music and so much more! Control with the button on the mask,
with a hand gesture
, or over Bluetooth with an app for both iOS and Android. The app is totally free, no strings attached!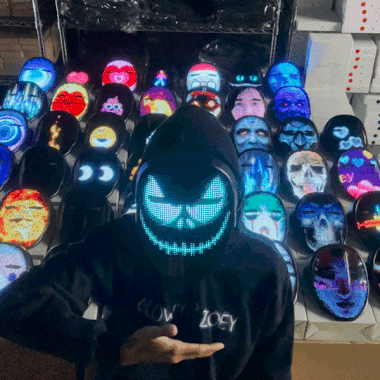 Rechargeable! Built-in 2000mAh rechargeable battery, 5 hours to full charge, up to 12 hours run time - no batteries required!
45 dynamic animated patterns + 70 static faces built-in.
Supports gesture sensing, you can change different patterns/pictures by waving your hand across the mask.
Supports mobile phone photo upload, any photo you want can be displayed on the mask! Animation upload (such as GIFs) is not supported at this time.
Music rhythm mode, when playing music in the APP, the mask will follow the music beat with selectable patterns.
Works with glasses! Smaller frames will fit inside the eyecups. Larger frames may not fit.

Press the power button, and then cover the sensor switch with your hand. When the screen displays "OK", you can use gestures to change the screen. When "X" is displayed, the gesture is turned off.
SPECIFICATIONS:
Battery capacity: 2000MAh
Product size: 220*180*50mm
Number of lamp beads: 2074
Pixels: 46*58 (irregular)
Support language: 10 kinds
Product pattern: 45 dynamic pictures + 70 static pictures
Battery model: 103450 polymer battery
Product material: ABS plastic + PVC lens + silicone
Input voltage/current: 5V/1A
Charging type: USB recharge
Charging time: 5 hours
Use time: 12 hours
Payment & Security
Your payment information is processed securely. We do not store credit card details nor have access to your credit card information.