---
Description
High-frequency decontamination, rejecting jewelry allergies, visible cleaning effect.
INNOVATIVE DESIGN CLEANER:

 

15W power ultrasonic cleaner with 360-degree all-round high effective deep cleaning function. Wide range of applications ultrasonic cleaning machine, portable size, and simple touch control button innovative design.
HIGH-QUALITY MATERIALS:

 

Food grade SUS304 stainless steel tank with no pollution, high-quality material with a large clamshell design, waterproof and reliable quality for durable use. Non-slip rubber pads on the bottom to offer extra support and avoid scratches.
ENERGY EFFICIENT CLEANER: The touch control button is more stable and durable than an ordinary button. And one button initiates ultrasonic cleaner machine three-minute auto-cleaning, 42 kHz ultrasound produces millions of microscopic cleaning bubbles decomposing and removing dirt, efficient and fast clean that won't damage your valuables while refreshing them as new.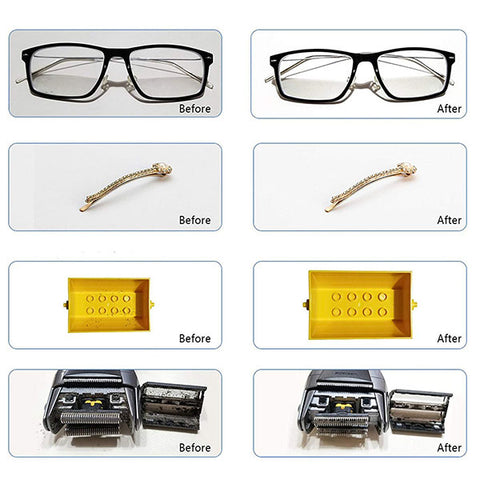 WIDE RANGE APPLICATIONS: 17oz capacity tank portable design with detachable power cord, is easy to carry and keep your items clean no matter where you go. U

ltrasonic cleaner deep cleans your jewelry, glass, denture, eyeglass, coin.
HOW TO USE:
 HOW TO MAINTAIN ULTRASONIC CLEANERS:
1. In order to ensure the maximum service life of the machine, the ultrasonic cleaner should not be used for more than 15 minutes continuously.
2. Ensure the ultrasonic cleaning machine does not sit on a wet surface or damp towel or clothes.
3. Clean briefly with a soft brush to remove any residual dirt. Rinse it again and dry with a soft cloth.
Payment & Security
Your payment information is processed securely. We do not store credit card details nor have access to your credit card information.